Hip Replacement & Hip Resurfacing
Over the past half century, hip replacement has become one of the most successful interventions, not just in orthopaedic surgery, but in all of modern medicine. Over 95% of patients have good results and the life of the implants has increased over the past several decades.
Younger, more active patients may be a candidate for hip resurfacing. Unlike traditional total hip replacement, hip resurfacing does not remove the bones in the joint, but instead resurfaces the bone with smooth metal.
At Orthopaedics New England, Dr. Keggi and Dr. Kennon specialize in hip replacement and resurfacing. After reviewing your history and performing a physical exam, they will let you know which procedure is best for you and discuss what outcomes to expect after you recover. Learn more about hip replacement and resurfacing below. To schedule an appointment, call (203) 598-0700 or request one online.
Hip Replacement
The basic concept of a total hip replacement (also known as total hip arthroplasty) is to replace the ball-and-socket joint with an artificial ball (femoral head) and socket (acetabulum). After the joint is replaced, there is no longer any arthritis in the joint, because the joint is entirely artificial.
While there are different surgical approaches that can be used, the same steps have to be performed during the surgery:
After exposing the hip joint, the femoral head (the ball of the thigh bone) is cut and removed.
The hip socket (acetabulum) is then scraped clean. The surgeon removes the hard, arthritic surface of the acetabulum until a bowl-shaped area (similar to the shape the socket is naturally supposed to have) has been reamed out.
The artificial socket, which is made of a porous coated metal shell, is placed in the pelvis. The tight fit is usually adequate to hold the shell in place, although screws may be used if supplemental fixation is needed. The porous coating allows the bone to grow into the prosthesis.
A liner is then inserted into the socket shell. The liner is typically plastic (polyethylene), although in an active and/or young patient, a ceramic liner or even a metal-on-metal liner may be inserted.
Next, the inside of the femur is reamed out to prepare a slot for the stem. Some femoral stems are designed to be cemented in place and others are designed with a porous coating so that the bone grows into the stem. The latter tends to last longer, especially in younger, more active patients.
Lastly, the femoral head is selected and impacted onto the top of the femoral stem. The hip is relocated and put through a range of motion and stability test.
The incision is then closed in multiple layers and a sterile dressing is applied.
A newer development in recent years has been the movement towards implants that have interchangeable, modular parts. These modular parts allow different sizes for the femoral stem, neck, and head rather than a single-piece design that comes in several sizes. In this way, the patient's anatomy can be reconstructed more accurately than with a single-piece prosthesis. While most patients were in the hospital for 3 or 4 days just a decade ago, the majority of patients now just stay overnight and some patients in good physical shape are able to go home the same day as surgery now with outpatient surgery. Learn what to expect the day of surgery and after surgery.
While more minimally invasive hip replacement techniques are gaining in popularity, the posterior approach is still the most commonly used surgical approach for hip replacements in the United States today. The procedure is performed with the patient lying on his side. To access the hip joint, the surgeon makes a large circular incision over the buttock, splits the gluteus maximus muscle, and detaches the external rotator muscles from the femur.
At Orthopaedics New England, we use the anterior surgical approach to hip replacement. This approach was developed by Dr. Kristaps Keggi in the 1970s and has been taught to all Yale orthopaedic residents for over 30 years.
The procedure is performed with the patient lying flat on her back. Instead of making one large incision over the buttock as in traditional posterior hip replacement, the surgeon makes one or two smaller incisions over the front of the thigh. The lower incision is used to remove the femoral head (ball) and replace the acetabulum (socket). The upper incision, if needed for a large or muscular patient, is used to place the stem in the femur.
There are a number of advantages to this surgical approach:
Having the incision on the front of the hip prevents any discomfort in the incision area when sitting down or lying on your side.
There is significantly less muscle disruption, which decreases the chance of the joint popping out of place (dislocating).
A smaller incision minimizes scarring, pain, and downtime.
Patients can begin rehabilitation sooner and recover faster.
The anterior approach hip replacement is the most technically challenging and requires advanced training and skill. For this reason, it is not often used by surgeons who do not specialize in hip surgery. However, as world-renowned hip surgeons, Dr. Keggi and Dr. Kennon perform anterior approach hip replacement every day with superior outcomes.
Hip Resurfacing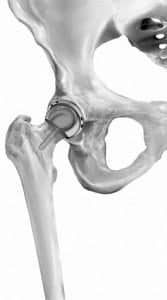 Hip resurfacing is similar to total hip replacement, except that the top of the femur is capped with a spherical surface (sort of like capping a tooth) rather than cutting off the ball and placing a stem into the femur. Otherwise, the ball moves within an artificial hip socket similar to a hip replacement. Hip resurfacing conserves bone and is a less-invasive procedure than total hip replacement.
Developed by British surgeons in Birmingham, England, the Birmingham hip resurfacing device was approved by the FDA in 2006. It involves a metal cap that moves smoothly in a highly polished metal socket. Dr. Keggi and Dr. Kennon trained with surgeons in England and together performed the first Birmingham hip resurfacing (BHR) in Connecticut in November 2006.
Who Is A Candidate For Hip Resurfacing?
For the right patient, Birmingham hip resurfacing is an excellent alternative to total hip replacement.
The procedure is principally designed for younger, more active patients who need a greater range of motion than typical total hip replacement patients. It is also for patients who need to be able to eventually participate in impact activities such as running.
The FDA currently recommends that candidates be 65 years or younger, and in recent years, the manufacturer has recommended its use limited to men. This is primarily because of the increased bone density needed to support the cap.
After a thorough evaluation, Dr. Keggi and Dr. Kennon will let you know if hip resurfacing is right for you.
Life after Hip Replacement & Resurfacing
Most patients have minimal or no pain by 3 months (or sooner) after hip replacement or resurfacing, and the majority return to our office and report that their discomfort level, activity, and quality of life are all dramatically improved. However, it is not unusual to have occasional muscle aches and slight swelling of the thigh and extremity for several months. Learn more about what to expect after surgery.
There is a wide variation in how soon patients return to work. It primarily depends on what you do and also on your physical condition before surgery. Some patients return to desk jobs within several weeks. Others who have very physical jobs, such as laborers, may need to take 10 to 12 weeks until they are able to meet the demands of their job.
Essentially, we recommend that everyone returns to work when they can function safely and with reasonable comfort.
Most patients are able to drive within a week or two after surgery.
Most patients are able to resume sexual activity in a few weeks, when they feel up to it.
In general it is best to avoid high-impact activities such as running or contact sports after hip replacement, as this can decrease the life of the replacement and increase the likelihood of early loosening, possibly necessitating revision surgery.
Low-impact activities such as walking, golf, cycling, swimming, hiking, or ballroom dancing are well tolerated by most joint replacements. Most joint replacements will last for many years with proper care and low impact activities.
If you have questions about activity or range of motion limitations after surgery, ask your surgeon.
In contrast to total hip replacements, we do not usually place any specific restrictions on hip resurfacing patients once they are completely healed from surgery. Although dislocation is possible, it is exceedingly uncommon and difficult. Hip resurfacings can generally tolerate the same types of motion and activity that a natural hip can.
New guidelines from the American Dental Association (ADA) and the American Academy of Orthopaedic Surgeons (AAOS) suggest that the risks of antibiotic use outweigh the benefits for the majority of patients. Most patients undergoing dental procedures do not require preventative antibiotics for their joint replacements.
There are some exceptions and patients with certain circumstances may benefit from antibiotic use after discussion with their dentist.
The length of time you can expect your hip replacement or resurfacing to last is highly variable. There are many factors that contribute to the longevity of the implants used, including the activities you pursue, your weight and age, and the type of bearing material used.
Impact activities (running, basketball, and other sports) will increase the likelihood of loosening for a total hip replacement. In addition, most total hip replacements are not designed for these types of sports activities, although hip resurfacings can be. Hip resurfacings can loosen over time, but evidence thus far appears to suggest that they do so less often than hip replacements.
Patient weight has a significant influence over how long the replacements will last. Heavier patients place a larger load on the implants, but conversely, they often are less active (e.g., take fewer steps in a year).
While younger patients typically wear out replacements more quickly than older patients, implants have evolved to the point that younger patients can expect many years of use before requiring revision surgery.
The type of bearing material used also factors into longevity. Metal-on-metal and ceramic-on-ceramic bearings probably last the longest, followed by hybrid materials, and lastly by traditional metal-on-plastic bearings. Hip resurfacings are metal-on-metal bearings and last a long time.
Don't let hip arthritis hold you back anymore. Call Orthopaedics New England today at (203) 598-0700 or use our online form to request an appointment with Dr. John Keggi or Dr. Robert Kennon in Middlebury, New Milford, or Farmington, Connecticut.